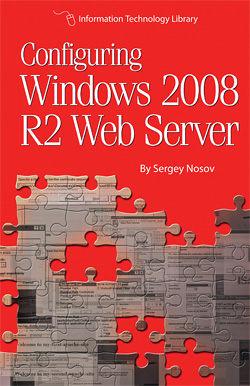 Purchasing the Book
Buy "Configuring Windows 2008 R2 Web Server" from your local bookstores. Use the following International Standard Book Number (ISBN) to quickly locate our title.
ISBN: 978-1-47921-630-7
Online ordering is quick and convenient. The following list includes some of the Internet merchants that carry our book.
amazon.co.uk
amazon.fr
amazon.de
amazon.it
amazon.es

barnesandnoble.com
bookdepository.com
powells.com
bookbyte.com
Bulk Ordering
You can purchase "Configuring Windows 2008 R2 Web Server" in any quantity directly from the printer:
Information for Libraries and Resellers
The following resale channels are available:
Ingram USA
Ingram International
Baker & Taylor offers our title through its special programs for libraries and academic institutions.
About links
Our web site contains links to external web sites. We provide the links for your convenience; we do not necessarily endorse these external web sites. If you had negative experience with any of the web sites we link to, please share that experience with us, we want to know about it.
Do you carry our book?
Is your bookstore selling our book? We would like to tell everybody about it. Please use our contact form, and let us know your bookstore name, where it is located, and send us a link to your web site if you have one.