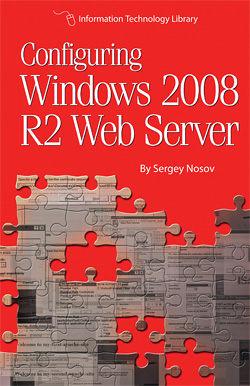 NOW on the Market
"Configuring Windows 2008 R2 Web Server" by Sergey Nosov is available in print. Order the book from local bookstores and online outlets.
ISBN: 978-1-47921-630-7
You can read more about the book and the author by following this link: information at a glance…
Also, take a look below for some of the relevant topics.
Quit struggling with IP addresses
Pre-configure the IP addresses so you do not need to mess with any settings on-the-spot – just put the server in the rack (or even ship it to the datacenter), turn it on, and be confident that everything works. Read more…
DNS Services
Do you modify your hosts file when you need to test name based services? Windows 2008 R2 Web Server includes a DNS services role that is so easy to use, it is perfect for testing out your installations before deployment. Read more…
The site search button
The chapter "Indexing Services for IIS" will show you how to equip your web site with a working search box. Also, learn about modern alternatives that may be better suited for your web site. Read more…
SNI with Windows 2008 R2
Learn how to upgrade the setup from the Apache virtual hosting section of our book, for taking advantage of the Server Name Indication (SNI) protocol that allows sharing IP addresses among multiple secured web sites. Read more…
Replacing a RAID Drive
Your server uses storage redundancy to keep it going in case a hard drive fails. But, what is the procedure for replacing failed hard drives, what can you expect to happen? Read more…
Renewing TLS/SSL Server Certificates
TLS/SSL Certificates are used for secure HTTPS web sites, secure email, secure remote access, and more. What are the steps you need to take when a security certificate on your server is getting close to the expiration date? Read this article to find out…
Configuring IIS 7.5 with Embedded Font Media Types
For web sites with embedded fonts you may notice that IIS 7.5 does not correctly serve all types of font files. Here is the article that will tell you how to easily fix this issue. Read more…
SQL Permissions for Web Apps
Some web applications require permissions to create databases. See what you can do when you encounter the denied errors. Read more…
Prevent referrer form spam with IIS Rewrite Rules
Malware distributors try to sneak links to the malicious payload whenever they can. One such place is the referrer information collected by web forms processing engines. Read more…
pfSense with Snort Build
Follow our build of network perimeter firewall, router, and protection device for a small office. Read more…
How to test new hard-drives
Do you need to test a bunch of new hard drives as quickly as possible? Here is a routine we use. Read more…
Redirect to HTTPS for IIS Websites
Learn how to modify the URL Rewrite canonical domain rule to also redirect from unsecured website to https, automatically. Read more…