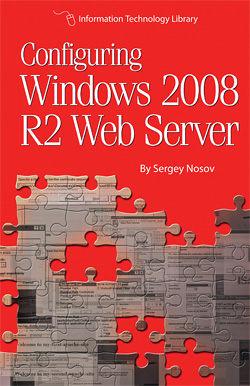 Quit struggling with IP addresses
You are ready to replace your old server in a datacenter with a brand spanking new server. Or you want to deploy a new server, and you want to pre-configure the IP addresses so you do not need to mess with any settings on-the-spot – just put the server in the rack (or even ship it to the datacenter), turn it on, and be confident that everything works, since you already tested all IP service bindings. How do you accomplish this?
Two chapters in the book "Configuring Windows 2008 R2 Web Server" by Sergey Nosov deal just with this issue. The chapter IP Addresses for Pre-Deployment shows how to bind your services (web server software, email server, DNS server, etc.) to IP addresses before you physically connect your server to any network.
The Switching IPs between Testing and Live Connections chapter shows how with a simple double-click you can enable live Internet connection to your server. Or with another double-click you can put the server back in stand-alone testing mode, if the need arises to take the server off-line for any kind of reconfiguration.