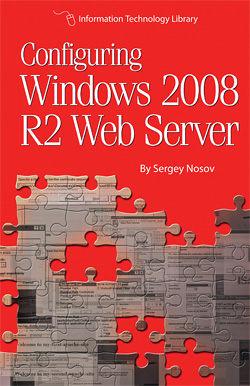 DNS Services
Do you modify your hosts file when you need to test name based services? Windows 2008 R2 Web Server includes a DNS services role that is so easy to use, it is perfect for testing out your installations before deployment.
Name based virtual hosting, for example, enables you to host multiple web sites on a single IP address. With DNS Services role you can test your environment to ensure correct web sites are being served.
"Configuring Windows 2008 R2 Web Server" by Sergey Nosov contains a chapter that shows you how to get started with DNS services. And when you are done testing we also show you what is needed to upgrade your DNS services installation into a full-fledged authoritative DNS server, if desired.